2011 Bluesfest is going to be one of those festivals in the future that people can boast that they were there..."was it that good?
"The answer simply is YES.

Day 1

After the trials and tribulations of trying to get to the Gold Coast using Jetstar not something I am planning on doing again ever....I finally got down to Byron at 5.30pm in time to settle in for the evenings shows.

Michael Franti hit the stage and brought with it his own force of positive power to all "the Freaky people who make the beauty of the world." The crowd was jumping especially as Franti came down the front to show them how it was done.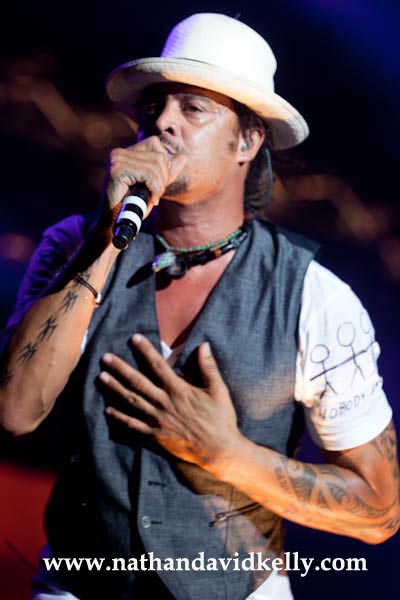 Everyone deserves music opened the set and the feel good be nice to one another political tunes from throughout his career flowed and energised the crowd leaving them up on high for the next act....Ben Harper.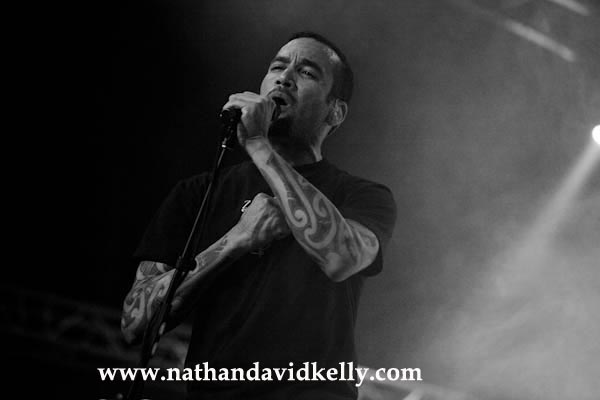 As if trying to outdo Franti Ben Harper came out firing straight into "with my own two hands", " Glory and consequence" and then "diamonds on the inside" sending the crowd wild. This greatest hits set truly showed the depth and breadth of Harper's talent as a singer, songwriter and guitarist.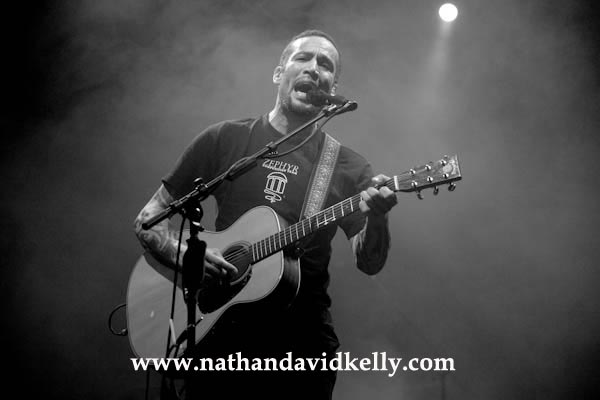 Finishing with "Burn one Down" Harper left all of those who were at day 1 in awe of the performances they had seen that night.

Day 2

Saturday was set to be another big day with a lot of good acts set to play and the ABC Q & A tent set up by Rhythms set to play host to a number of good artists.

Rockwiz was a crowd pleaser not only on this day but throughout the whole festival with special guests including the super talented Tim Rogers of You Am I.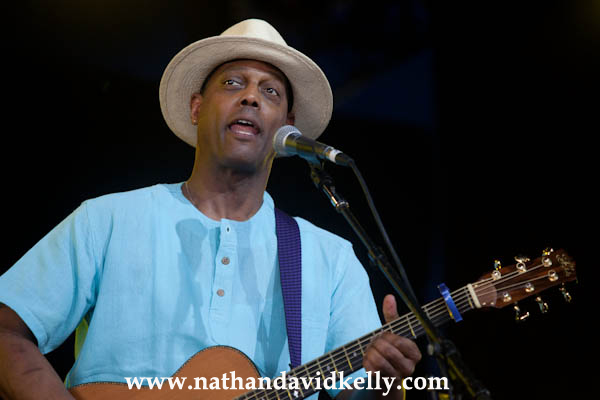 Eric Bibb who will be up in Cairns headlining our own Blues Festival played the Jambalaya stage with songs off his new album and amazed me by how one man with a guitar can capture the attention of such a large crowd.
Jack Thompson and The Original Sinners who are made up of Kevin Borich, Normie Rowe and Ray Burgess daughter best known from children's act Hi-5 played a set that was a trip down memory lane and really was just so much fun.
The Blind Boys of Alabama walked arm on shoulder onto the stage and played a great set that featured the vocal talents of Aaron Neville.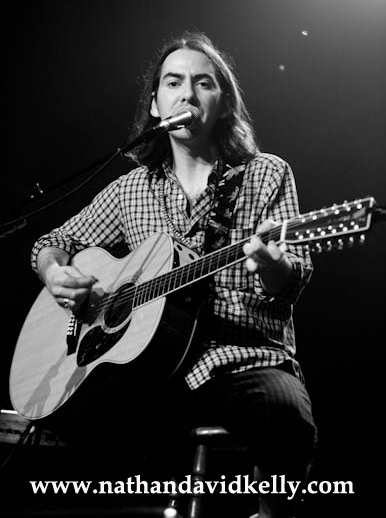 Fistful of Mercy is a side project of Ben Harper's that also includes Dhani Harrison the son of legendary guitarist and Beatle George Harrison. They took to the stage for a bit of a mellow set that comprised mainly of their debut album – these guys also won the friendliest band backstage  being happy to sign autographs and have photos with various people.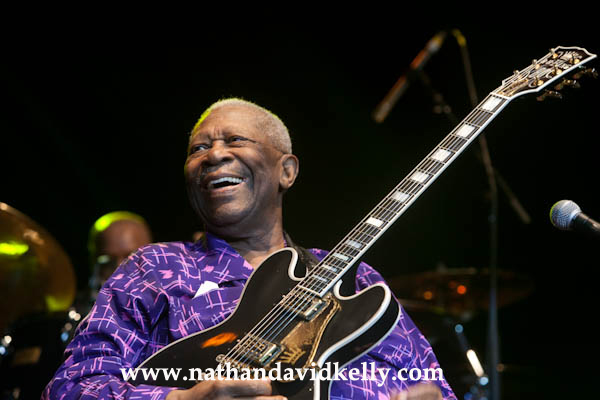 BB King was driven to the main stage and then wheel chaired to the side of stage and after his excellent band of seasoned musicians played the intro walked out onto the stage to the cheerful delight of the crowd, waving, bowing and throwing guitar pics out to the crowd. This humble and gracious great of a man seemed to be savouring every moment.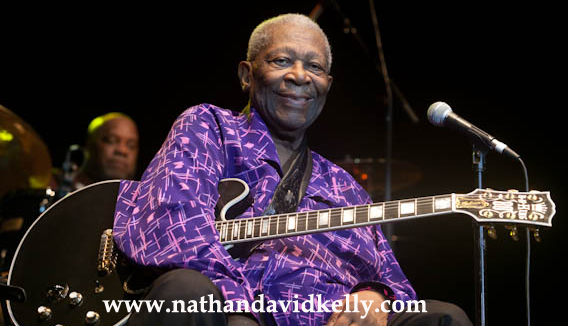 Sitting to play his guitar, the beloved "Lucille", a habit he has been in since the late 1990's his licks and banter with the crowd kept everyone enthralled but it was a sad experience, a realisation that many will never see him play again and that this surely will be his last visit to Australia.
Grace Jones had to be the odd act out on the bill this year just how she fitted in who knows but her diva antics of appearing on stage 45 minutes late won her no friends, her show however was spectacular.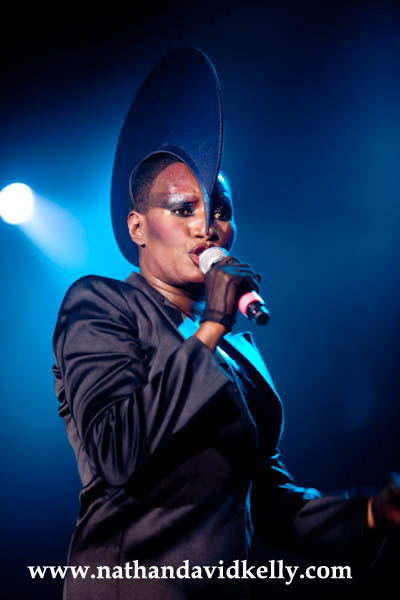 Day 3

Saturday was a mixed bag of act with Nathan Cavalieri impressing with his new outfit Nat Cole and The Kings, Jack Thompson and The Original Sinners had a good turnout for their feel good set and Tim Robbins and The Rogues Gallery Ban packed out the Jambalaya tent mainly by people hoping to catch a glimpse of Morgan Freeman.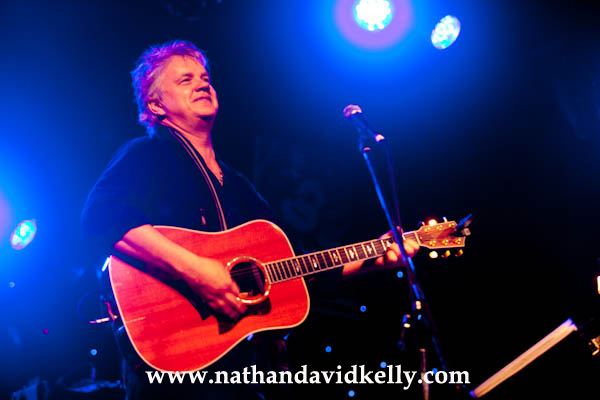 Jeff Lang one of the countries most under recognised performers had a great set as did Kasey Chambers on the Mojo stage and Mavis Staples had the crowd in the palm of her hand on the Cross Roads stage.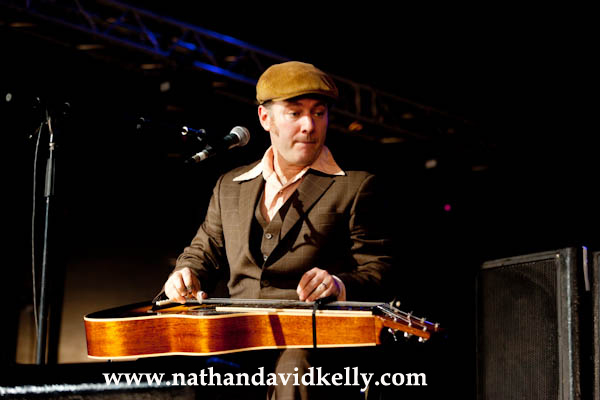 As night fell on Day 3 Andrew Stockdale and the crew from Wolfmother launched onto the stage for an explosive start to a massive set. With a new Album being laid down in the studio at the moment it will be interesting to see what comes out of Stockdale's rock god mind next time around.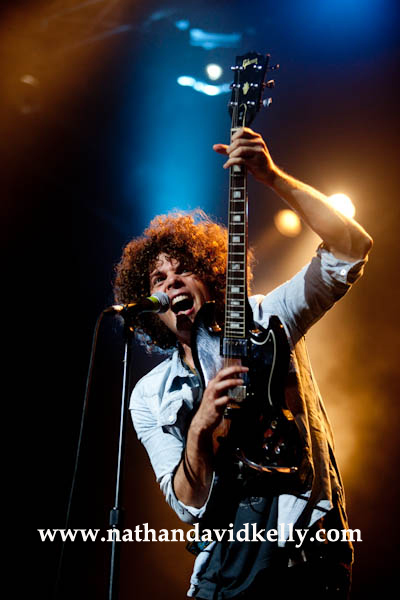 It is a shame John Legend and Michael Franti hit the stage at the same time. John legend Came across every inch a superstar and a very talented singer and piano player, one punter observed "He's like Kanye West but talented"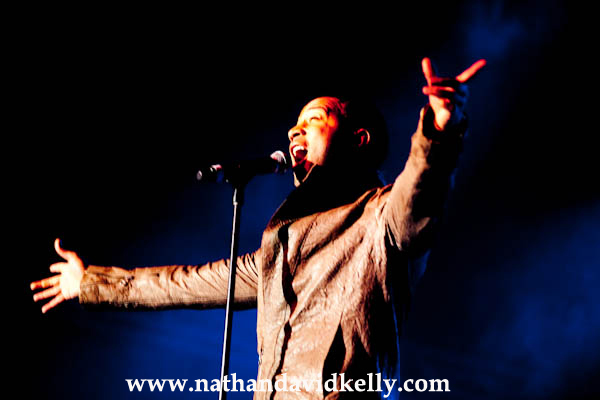 Anyone wondering how Michael Franti could possibly better Thursday nights show found out and the secret is engaging the crowd. Franti does this by making them aware of social issues, dancing with them in the front rows, telling funny stories tonight about meeting bob Dylan, playing a Bob Marley cover and then to top it all off running to the back of the Cross Roads Tent and playing a whole song and then playing his next song as he walked through the entire length of the crowd handing out hugs....what a set.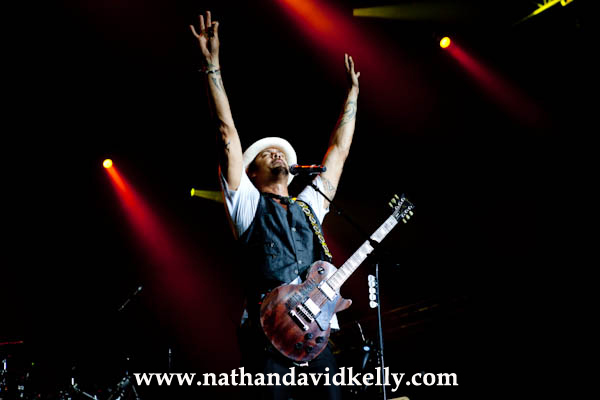 Day 4

Sunday was a bit of a slow day with a number of bands doing repeat performances but some of the stand outs for the day were Shane Nicholson who played his new album and Kate Miller-Heidke who played a tremendous set in front of a very appreciative crowd.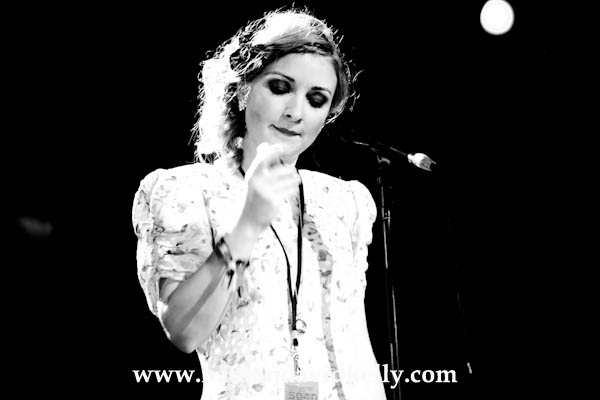 Washington drew quite a big crowd who came to see what all the hype was about, maybe they worked it out but I was left wondering.
Gurrumul a blind singer and guitar player and singer from Arnhem Land played a truly spiritually uplifting set before party favourite The Cat Empire finished the night on a massive high.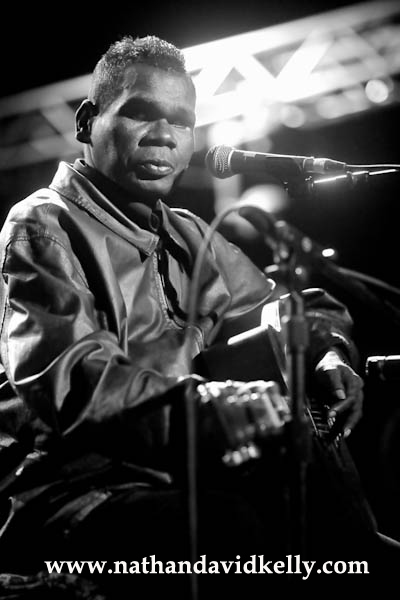 Day 5

BOB DYLAN---- So much has been written in the press about these shows and him, the reality is after seeing Dylan play a number of times over the past 15 years this was the best show I have ever seen him play, If you were close enough you could see he was smiling at the crowd and having a good time.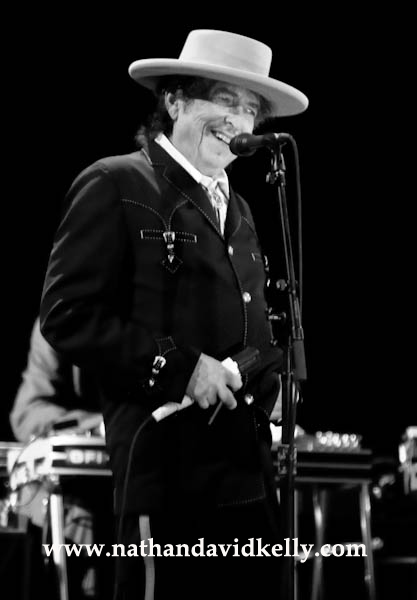 Sure his voice isn't great but it never really has been and the fact he had a cigarette as soon as he walked off stage probably didn't help this.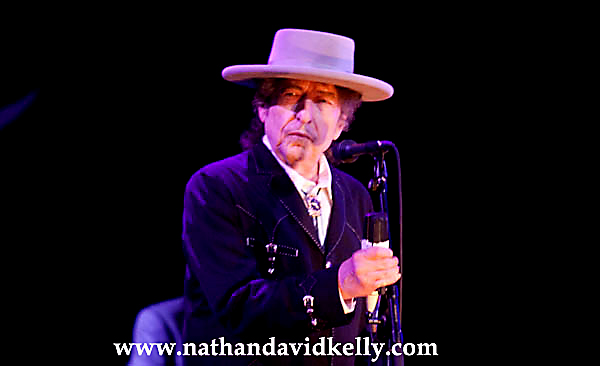 " He doesn't play the songs how they sound on CD" well some of these songs he has been playing from 40 years and touring almost 2/3 of the year it is little wonder he likes to mix them up a bit.

The fact is that most people who complained about Dylan have "The Essential Bob Dylan" 2 cd set and expect him to sound like that and play those songs some of which like Hurricane he hasn't played live in 30 years, these are the people who were there so they could say they saw Dylan once.


As legendary promoter Michael Chugg said "that was the best Dylan concert I have seen in 27 years "he would know and I tend to agree.

Jethro Tull did manage to pull quite a crowd even though they were on at the same time as Dylan and it is a real shame these shows clashed.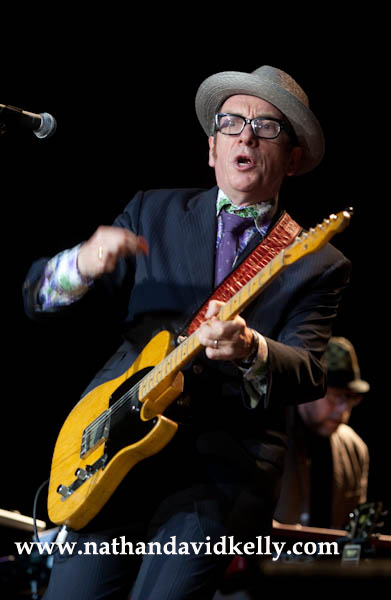 Elvis Costello had been around the festival for days walking from stage to stage in such a non rock star fashion, standing in with Mavis Staples and her band and he was happy to have photographs with people and sign autographs.
Costello's set was the polar opposite of Dylan's Upbeat and filled with Guitar Hero antics – I have to wonder what Dylan would have said had he known Costello inserted the start of the lyrics of his classic "Subterranean Homesick Blues" into his opening track of "Pump It Up"

Bluesfest 2011 will go down as one of the greatest festival line ups in Australian rock history it was also a festival where all the performers shone and really did play fantastic sets.

I am sure there will be a rush on Tickets for next year the big question will be who will be playing ... Eric Clapton? Billy Bragg? The Who?....maybe they could get Lou Reed just so there is a grumpy old performer that people can complain about......
For more images from Bluesfest 2011 visit us on Facebook
Click Below