The Pleasures of the Damned
Poems, 1951 -1993
by Charles Bukowski
Release date 29th of March 2010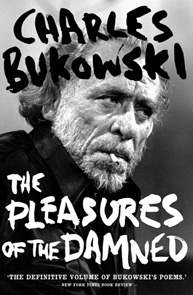 Having always wondered what kind of people get into poetry, thinking about poets I was forced to read at high school – but Charles Bukowski  ain't like those wistful, love junkie romanticists – his poems have a sense of brutalness. Of how ugly the world can be- but there is beauty in the ugliness of everyday life.

"The Pleasures of The Damned" offers a collection of poems from throughout Bukowski's career and explores the main themes of his career those being Love , Sex, Women, Drinking, Cats and the perils of a 9- 5 job.

Bukowski's poems are accessible to everyone, usually short but packing a whole bunch of wit and wisdom learnt in the seedy bars and on the streets of Los Angeles.

This collection of poetry offers an excellent jumping in point for those who have never heard of Charles Bukowski and an essential for the fan.

The best place to read this is in the seediest bar you can find with good friends, loads of drinks taking turns to read the poems at the top of your voice...Bukowski would certainly approve.

Charles Bukowski's "Pleasures of the Damned" is available now throughText Publishing RRP $26.95