Adam Weston the drummer from Birds of Tokyo took some time out from recording their new album in Sweden and what seems like a few extended drinking session to sit down and answer a few questions about BOT's Broken Strings CD/DVD release as well as talking about life on the road and what we can expect from their new album....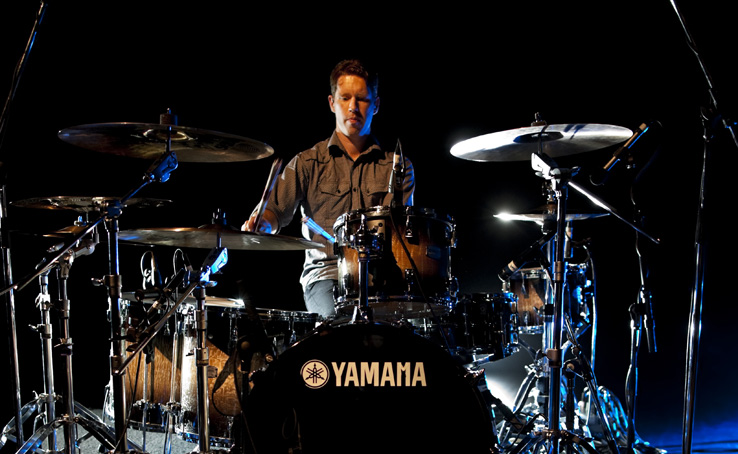 What led to your decision initially to have such a stripped back acoustic style tour?

Ever since we briefly touched on the idea by doing a couple of shows in WA back in mid 2007, we were always keen on revisiting the format in one way or another. Back then our first record Day One had only been out for a few months, where as this time around we had all the material off Universes to play around with as well. Being able to present most of our back catalogue, which was to an extent rewritten with an emphasis on strings and keys, kept things fresh and challenging for the band and hopefully for listeners too.

Why did you decide to film and record acoustic shows rather than a full on BOT show?

We all agreed beforehand that the Broken Strings tour was going to be a special run of dates and that it would be a good idea to document the project. Amongst all of our regular commitments it was amazing we even had the time to pursue such an adventure. We had already commenced writing and pre-production for our upcoming album, so it's safe to say logistically we won't have the chance to do it again any time soon.

I had not heard any of your music before I listened to this album (seriously) and from the third song I was hooked.... do you see this CD/DVD as a crossover opportunity for the band into the mainstream?

We're just happy that listeners are responding as enthusiastically to the CD/DVD as they did to the tour.  I would expect that people who aren't familiar with our past records would still totally enjoy Broken Strings, so it's rewarding to know that a live release can introduce our band to new listeners. The tour and release for us in a way book ends the Universes era of our lives, which by all means has been a kick ass past couple of years, but from here on in all of our energy is focused on our next album.

What does 2010 have in store for BOT?

A new album, loads of touring, no sleep, too many drinks…they're the first things to come to mind! A lot more time will be spent overseas this year, without neglecting Australia of course. The first two months of this year has involved four feet of snow and -17 in Gothenburg instead of 40 plus back home. While we can't wait to play the new material to Aussie crowds, we'll also be looking at more shows in the US, UK and through out Europe.

You are recording a new album why Sweden?

After doing the past couple of records in secluded holiday type spots in southern WA, we decided this time that we wanted to get away for a period of time. It really helps to change things mentally, physically and most importantly artistically. Adam Spark researched a few options and while Nashville and Berlin were originally on the cards, a particular studio in Gothenburg sealed the deal. There's a certain comfort in disconnecting from everything and just throwing yourself out into an extremely different setting. The seven of us working on the record are all living at the studio, so it's also a good time to test each other's limits!
How's the recording process going?

Very well. Even though there are still deadlines to meet we've treated this process a little more casually than before. There have been long days and nights in the studio which have caused cabin fever type symptoms, but we've been able to pick and choose what songs, parts and instruments we're in the mood for recording at our own leisure, as opposed to doing everything in blocks. The only distractions have been the occasional all night bender where we all blow off some steam, but that's necessary right?

What kind of feel does the new album have?

I don't want to give too much away, but I'd say it's a darker record for us, yet still surprisingly upbeat. There are lush arrangements with perhaps signature type choruses, but the songs this time around have taken on much more life and character as they've been treated and textured. This body of work may not sink in right away with some Birds fans, which we think can be a good thing. I tend to get more enjoyment out of a record that I can repeatedly listen to and grow to appreciate, as opposed to a bunch of songs that have a short shelf life.

You are playing in Mackay in June any chance of getting up to Cairns?

I wish. Just thinking about the weather right now in northern Queensland is making me feel slightly warmer.  We will be planning a tour possibly for mid year, but it all depends on timelines and logistics. When we do come back we'll have to stay at the hotel where we had a party in the pools and on the tennis court till 6am.

Where do you see yourself in ten years?

Well I think the next ten years are going to pass much quicker than the last ten, which will be super quick, but I'll still primarily be making music with my Bird brothers. If for some reason I'm not, then I'd say I'd be a totally unrecognisable fat guy with a beard and a drinking problem…and don't say I'm that guy now!

What has been your favorite travel destination? Why?

Anywhere overseas for the first time is always an eye opener, so it would be hard to compare Vegas to Frankfurt y'know. I find it also depends on who you're with and what you're doing that can affect your perspective on a place. So I'll say Paris and the French countryside. So much to see and the food and wine is amazing. I must say atm it's going to be hard to top the Swedish for being the most hospitable and friendly people.

What's the funniest thing that has ever happened to you on tour?

I seem to keep out of harms way on tour, so nothing ever really hap hazard or funny happens to me, but I can tell you that we have this rule that if someone messes up e.g a parking ticket or damages something; then they have to wear some form of embarrassing garment on stage. Our touring keys friend Glenn Sarangapanny once kicked a footy into one of the Taragos and smashed the windscreen. The next show in Brisbane he wore a one piece ladies tennis skirt that was pretty damn short. For $50 to somehow restore his dignity, he wore it without underwear. What he couldn't figure out that once he sat down at his keys, girls in the front row were taking an awful lot of photos…!

What's the worst thing that has ever happened to you on tour?

Waking up somewhere in Melbourne, not having any idea where I was but knowing I had a flight to the next show in a couple of hours. For some reason I had no money, phone or sunnies, so I just jumped on a tram that was hopefully going towards the city. Ten minutes down the road I saw Kenny and Sparki who must've known the general direction I was in and thought checking the streets was a good idea. Luckily I made it back to the hotel and on to the flight…alive.  I hate irresponsible people and was disappointed in myself that I almost really screwed up. It happens to other people all the time and you laugh about it in hindsight, but I'm not that guy.

If you could go on a holiday anywhere where would you go?

As stunning as Sweden is under snow, right now anywhere warm would be nice or anywhere I could kick an AFL footy. Aforementioned Paris would be nice in summer or perhaps a week in Amsterdam. If I was to go somewhere for the first time, I still need to tick Hawaii off my list.

If you could record with any musician living or dead who would it be?

Right now I'm going through a massive Neko Case phase, like over five albums, so to be in the same room as her and hear that voice would be amazing. Her music is simply brilliant so if you're curious about what modern country-noir sounds like, check her out.

What's the best thing about being a musician?

I'm happy being a musician as long as I get to play regularly, whether it be jamming with friends or playing festivals. Some people don't like being on the road for long or at all, but I find it an experience I don't think I could get sick of…yet.

What's the worst thing about being a musician?

Probably the challenges the music industry faces today and how its uncertainty in some areas can affect the careers and futures of many musicians.
Win a Birds of Tokyo prize pack