The Broken Strings tour DVD/CD is quite simply one of the best Australian albums in a long time...this album showcases the depth and musical talent of the Birds of Tokyo, especially the vocalist Ian Kenny.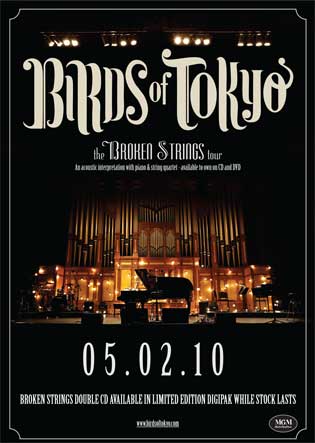 Filmed and recorded live on location at The Melbourne Town Hall and Sydney's Enmore Theatre in September 2009 these sets are described " as the coolest thing we have ever tried to do as a band" and the quality of the recording especially for a live recording is exceptional.

Too few Australian bands ever try to create a live DVD and the simple matters of cost and return must play a significant role in this decision. The DVD is an excellent document of a band preparing for and playing live but lacks the polish of a great live film.

What stands out the most after watching and listening to this project is that this CD and DVD is not just for Birds of Tokyo fans...This album will gain fans for the band making them and their music more accessible for a wider audience (including this writer) and could be their transition from independent musicians to the mainstream....

We have two CD/DVDs and signed Birds of Tokyo program to give away to two lucky readers to enter click here