Sold Out is one way to describe the mood of an appreciative Cairns crowd at Brothers on Friday Night who were there to see the Sydney quintet Boy and Bear who offered a wide ranging set list to their shoulder-to-shoulder audience, launching the crowd straight into adoration with Rabbit Song.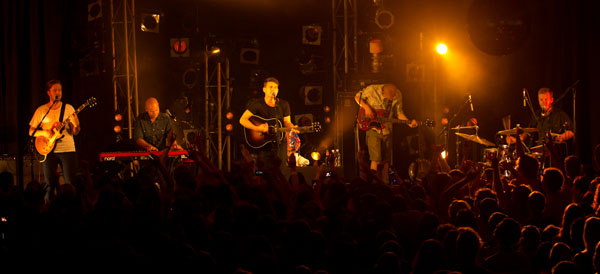 Successive hits of the night included Milk & Sticks, Part Time Believer, Feeding Line and of course, Mexican Mavis and Golden Jubilee.
In between this (and more), the boys and the bears managed to neatly squeeze in a cover of Crowded House's Fall At Your Feet.


It is obvious that Boy and Bear can stand their own when it comes to crafting lyrics, but this cover was a necessary addition to their set of originals simply because of its heart-warming capacity.


Boy and Bear treated everyone to an eclectic performance of lights, lyrics and rifts; a performance I will defintely remember for a long time to come..