Clint Boge of The ButterFly Effect Interview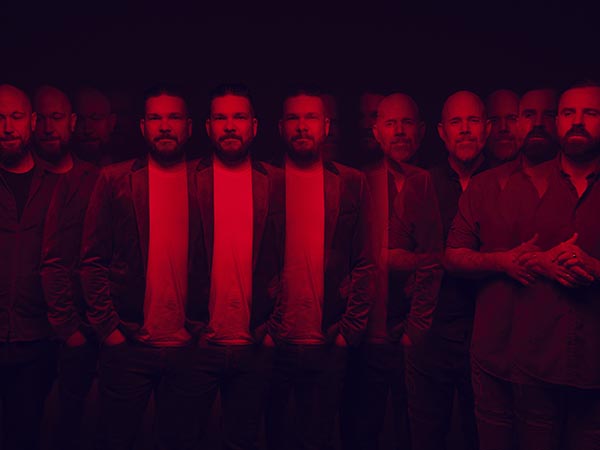 We recently caught up with Clint Boge, lead singer of Brisbane band The Butterfly Effect to chat about their new album and Their National Tour that kicks off at Cairns very own Tanks Arts Centre on Friday 20th of September.
Hi Clint where are we talking to you from today ?

I am at my home on the outskirts of Brisbane near Amberley air force base so its fun because we get an airshow every day, we get F18 taking off, C17's flying around, heaps of stuff. When the B2 bombers flew in the other day it was amazing, it was quite freaky because it looked like some kind of alien spaceship was in the sky.

Final Conversation of Kins was released in 2008, it is a long time between records, what brought this new album together ?

You know its been 14 years, you have had to wait less time for a tool album so that's saying something. When we got back together for the reformation tour we though we would just see how it went, if we all got along together and everyone was cool we would keep going from there.

After we got home we were like this was really good. So what we did was we scoured through the hard drives of which there were many. There were about 30 odd demons and we just cherry picked our favorite songs or some of the best riffs that were cohesive enough to make an album out of.

Luckily everyone was on the same page and we just went forward from there.

I read online that you ran into one of your former bandmates at a concert and this was really where the idea of  reformation tour kind of took place, is that a true story ?

That is true in 2019 I went to The Dead Letter Circus acoustic gig at The New Glove Theatre in The Valley and I didn't even know that Kurt was there, our guitarist, we sort of saw each other and kind of ignored each other politely as you do.

After a while he was walking past the mixing desk and we shook hands and I gave him a big hug and it was really good to catch up, he told me what had been going on his life and what he had been doing.

After that meeting I went home and agonized for a couple of weeks about sending an email to everyone just to say, is there a chance of putting the band back together, is there a chance of doing one more tour ?

I thought I would really love to play the songs one more time, 5 years was a fair amount of time to let water travel under the proverbial bridge.

When I sent out the email I heard back from our drummer Ben within hours with quote " my bags have been packed for years lets go "  Glen our bass player got back to me pretty quick saying Im all in always. Kurt took about three days to get back to me so I was kind of sweating on that.

He said looks let catch up have a chat and see if there is a vibe.
So we all went out, our tour manager organized a bit of a catch up and we went and had some drinks at the Port Office in Brissie and the night got really messy and the next day there was emails flying backwards and forwards and the wheels had been set in motion.

Its such a good story one of such coincidence and the universe kind of aligning sometimes
.
Yeah its good when it does, I was playing covers at the time. I was playing in local pubs around Brisbane and that was it.

I think I saw you play up here either at The Jack or The Tanks.

I did, I think I played both I was playing some of my own stuff solo acoustic and some Butters stuff and a few covers.

I gotta say The Tanks is amazing, it's an amazing venue.

10 years is a long time and I am sure a lot has happened in that time for you and all your bandmates, children, day jobs how is it going now ?

Since the reformation, it was never that good before, we are getting along better than ever, everyone is on the same page there is a lot more trust in each other and make our parts accessible for the listener but still exciting enough for us to enjoy as well.

It has definitely been a cathartic experience and a lesson as well, which is good.

Songwriting is a bit of a mystery to anyone who isn't in a band, what is the songwriting process for the making of a Butterfly Effect song ?

Kurt comes into the room with a riff, it all starts with a riff. Always, its just how we operate how we work, once we all hear the music, the velocity at which it is played, I guess that sort of sets the scene.

In my mind I write the lyrics as mini film clips in my head or if there is something I really need to get out if there is something going on in my personal life or just the world around me that I feel I really need to express and share with others.

Lyric writing has always been therapy for me. So when other people gravitate towards it or say "that really helped"  or "I can totally relate to where you are" that is an amazing experience and the music is always the vehicle for that.

Older people listen to whole albums, rather than cherry picking songs and listening to this album over the past few days it really flows as a whole alum experience, how much thought goes into that for you guys, do you see albums a s whole thing ?

Yeah absolutely it is theatre to us and it always has been. We sequence the album like a movie so each song is like scene to scene almost and I guess if we were going to film clip the whole movie the intro would be a gin slinger walking into a town that's the vibe, pitting you againsta an opponent or an entity.

That is where the bullet comes in. Is there a silver bullet for the things that ail us ? Is there a silver bullet for the worlds problems on any kind of level. That's where the art comes from is there a silver bullet for the human condition the existential crisis there is a whole range we go deep.

You are about to hot the road touring this album, what are you most looking forward to about going on the road with the band ?

Just getting back in front of people, the rolling lockdowns and not being able to play really effected a lot of musicians around the world so we are all chomping bit to get out there feeling the energy of the crowd and the human element, you are all there for the same reason to watch a band is an amazing feeling of community and for some people it is really important that they are not n life and that a love of music and a love of certain bands binds them and connects them with others.

You kick off the whole tour at tanks what's your feeling for tanks ?

Man I love Tanks its an amazing venue just the fact that I holding tanks from world war two, its crazy to play inside it holds a special place not do I know the production guys there, they are brilliant, the sound is amazing lighting rig is incredible. Being the first show of the tour its going to be special with  tonnes of energy and we are gonna be hungry so you guys are gonna get us at our best.
The Butterfy Effect play Tanks Arts Centre on Friday 30th of September
Buy Tix from Ticketlink HERE
The Butterfly Effect new album IV is out now, grab a copy HERE