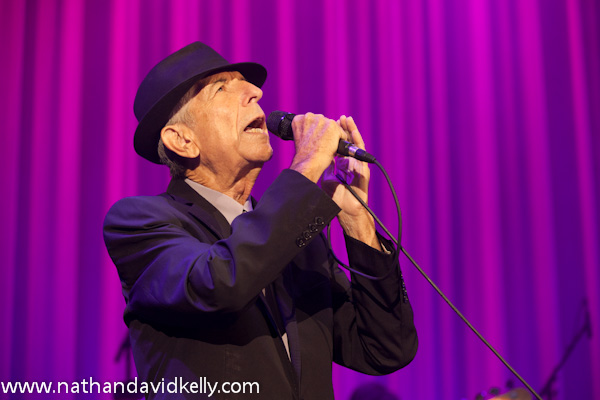 It was a privileged crowd who came along to the Cairns Convention Centre to see Leonard Cohen and his band this week. Rarely does such a world class show make it this far north let alone a living legend of the status of Cohen.
Having seen Cohen two years ago in Brisbane I still felt the same excitement to see him again and was happily surprised to see a very different show. Of course the must play songs were all there as Cohen loves to please his audience but they had been reinterpreted since the previous tour which was great.

Whilst the convention centre is a smaller venue than many Cohen plays on tour the show was the same 3 1/2 hour long set in which he and his band deliver and the delivery is exceptional.


Cohen struts the stage often singing on his knees like a man half his age, which is significant at 79, and watching the intensity that he listens to other members of the bands solo's makes you feel he is enjoying the show just as much as the audience.

It was also great to hear his magnificent backup singers do their own take on his songs with Sharon Robinson singing "Allesandra Leaving" and the Webb Sisters sing "If It Be Your Will"

It is great to see a musician who looks like he is loving what he is doing and appreciates his audience so much as Cohen obviously does. To see Cohen at 79 for many it is a sad realisation that this really may be a once in a lifetime experience but what an experience it was...for everyone there it was like Cohen was singing just for them.

This is one of the best shows to have ever been seen in Cairns and it would be great if our city became a regular stop on the national touring circuit.
Setlist
Dance Me To The End Of Love
The Future
Bird On A Wire
Everybody Knows
Who By Fire
The Darkness
Amen
Come Healing
Lover Lover Lover
Anthem
Tower Of Songs
Suzanne
Chelsea Hotel
Le Partisan
Alessandra Leaving (Sharon Robinson)
I'm Your Man
1000 Kisses Deep (Recitation)
Hallelujah
Take This Waltz
So Long Marianne
Going Home
First We Take Manhattan
Famous Blue Raincoat
If It Be Your Will (The Webb Sisters)
Closing Time