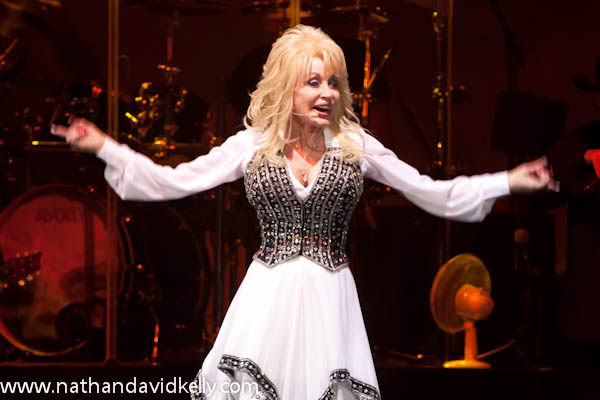 Dolly Parton hit the stage with the enthusiasm of a 20 year old on Monday evening wearing a white long sleeved silk dress and a glittering diamonte vest.
Not hesitating to launch into her hits from the outset playing the classic Jolene just three songs in.
Dolly took the crowd on a wonderful journey through not her music, songs by people who inspired her like Bob Dylan covering his " Don't Think Twice it's alright"and enthralling the crowd with stories of her life about her family and upbringing in the Tennessee Smoky Mountains.
The crowd stood up at the end to sing "Islands in the stream" (originally recorded with Kenny Rogers and written by The Bee Gees) and '9 to 5'. The one and only encore was 'I will always love you'. She did a medley to cover all of her big hits so that everyone got what they wanted.

There were a lot of people who wanted to get up and get down the front and dance and security had a busy time making sure everyone remained seated.
Once again it goes to show there is an audience in North Quuensland for large scale shows as this sell out shows.
Hopefully the promoters take note of this and schedule some more "big Acts" to head this way.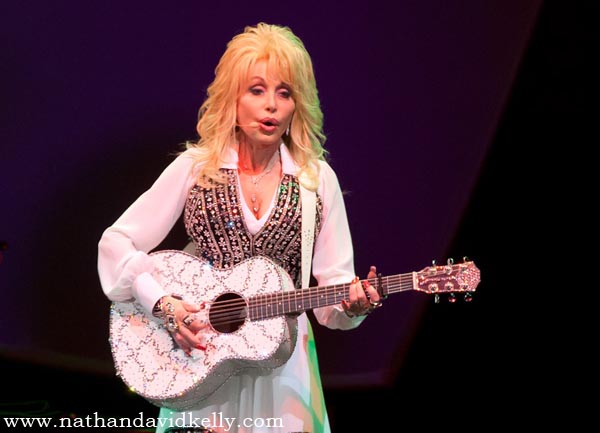 Setlist
Baby I'm Burning
What You Gunna Be Looking Like That
Jolene
Blue Smoke
Don't Think Twice  (Dylan)
These Are My Mountains
Old time religion + (medley of gospel songs)
Coat of Many Colours
Southern Mountain Memories
Hope (Not sure of title, is a new song on Blue Smoke CD)
Rockytop
We Will Always Be Together
Lay Your Hands On Me
Two Doors Down
You Better Get To Living
Down by the banks of the Old Ohio
Little Sparrow
Love Is Like A Butterfly
It's All Wrong, But Its Alright
When you think About Love Think About Me
Here you Come Again
Nine To Five
Islands In the Stream  (Finale)
I will Always Love You  (Encore)