A great crowd turned out for Chris Isaak at The Cairns Convention Centre proving there really is an audience in Cairns for larger shows...and what a treat they were in for.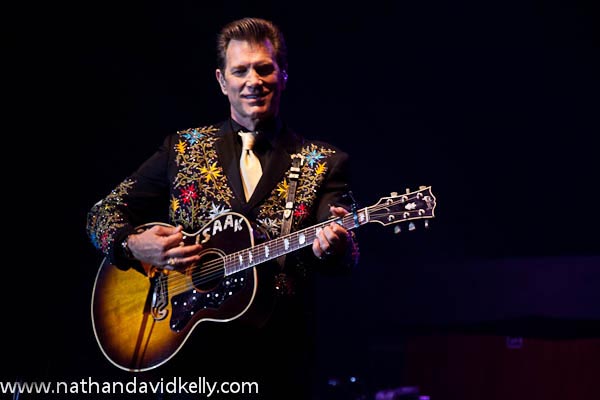 Arriving on stage in a sequined suit Isaak was ready to entertain and like so few other performers of his stature these days he really gave the impression he was there for his fans...even posing for people taking pictures on their iPhones down the front.
His band which he proudly boasts have been together for 27 years were top notch and this musicianship combined with Isaak's sensational singing voice laid the foundation for a great show.

Then of course there was all the banter from Chris, tales from the road and jokes and a walk through the crowd singing which saw a few cheeky locals have a grab of his arse...

But at the basis of this great show was rock n roll and Isaak sang all of his hits with a totally beautiful rendition of Somebody's Crying and Wicked Game back to back...and a fantastic medley of Elvis songs.

Chris Isaak's Cairns show was a ray of sunshine and pure joy and a perfect way to escape from the reality of life with a lover (or a friend) for a few hours, his classic American entertainer style made everyone feel they were in Vegas.
Set List
American Boy
Pretty Girls
Blue Hotel
We Got Tommorow
Want Your Love
SF Days
I'm Not Waiting
Somebody's Crying
Wicked Game
Best I Ever Had
Dancin
Notice The Ring
Baby Did
______________________
Doin' The Best I Can
Ring Of Fire
Dixie Fried
Can't Help Fallin In Luv
Now Or Never
Live It Up
Miss Pearl
Balls Of Fire
______________________
Super Magic
Pretty Woman
Big Wide Wonderful
Worked It Out Wrong