Katie Noonan took some time out of her busy schedule to chat to us here at The Cairns Review about her new album The Emperor's Box and her upcoming national tour which starts in Cairns seeing Noonan perform at Tanks Arts Centre.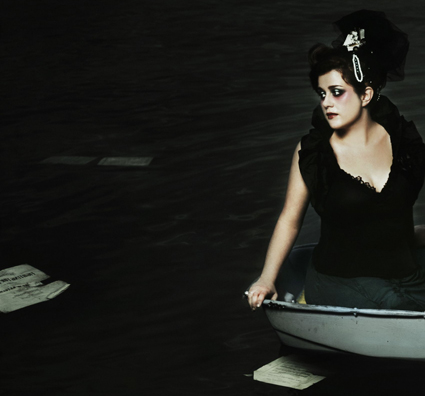 "Winning an ARIA award….well there is no money involved but there is a wonderful sense of respect from your peers because it is a peer voted award and is decided by other musicians and professionals within the music industry so that's the ultimate compliment to be rewarded by your own contemporaries and peers… it also brings your music to a national level so that people are more aware of who you are and what you are doing…awards are funny things there is no such thing as a good or bad way of making music…it's a peculiar thing to award creative works….but it's a great an honour nonetheless."
"The Emperor's Box is a selection of 13 songs that have been lovingly crafted by myself and my band The Captains full of lyrical observations of life and love, loss, friendship, family and all the curve balls of life that are thrown our way and thrown in the way of people around me."

"It's a return to that organic lush band sound that people might associate with George….and my wish for the record is that it gives people escapism and takes them to a better place for a while."

Much of the record was arranged with the band during a musician's residency at the late Arthur Boyd's beautiful property on the Shoalhaven River…Katie says
"Bundanon is a vast property with various buildings on it that was bequeathed to the people of Australia by the late Arthur Boyd and his family and set up as an artist's retreat for artists from all walks of life for visual artist's musicians and writers to come and be inspired by the Australian Bush…. You meet all sorts of other artists from around the world who can completely dedicate themselves to their art which is a completely different and inspiring experience…obviously life gets in the way of creating so this space is really dedicated to it which is wonderful and inspiring….in the musicians cottage is a grand piano is a piano that was covered in Paint from where Arthur Boyd was painting while his daughter played for him.

I was down there with the band…the songs were basically already written but we arranged them all whilst we were down there…."

When Katie speaks of who her musical influences are she says its "A pretty big list of influences there is not one person but Joni Mitchell is a massive influence because she is an incredible story teller and songwriter who has continued to create really pertinent art over 40 years…Jeff Buckley…I think his album Grace is a complete masterpiece, Bjork, Elbow, Radiohead and Thom Yorke are all influences." And if she could record with any artist living or dead she says "I think it would be a chick super group with Joni Mitchell, Imogen , Bjork , Regina Spector and Tori Amos"

On speaking of being a touring musician Katie says "The best thing about being a musician is having an open license to express yourself but the worst thing is the constant travelling being away from family.

One of the funniest and worst things to happen on tour that Katie is willing to tell us is the time "when a really drunk man jumped up on stage and put me in a headlock, I find it quite funny but it was also quite frightening at the same time, it was one of those things where you could see at any moment he could turn and get violent…I said thanks very much I can't really breathe and I can't really sing so can you let go of my head…."

When asked what the Cairns audience can expect we were told "The set list at tanks Arts Centre will be a presentation of the entire new album, delving into the songs and showing everybody the fruits of our labour over the last 2-3 years…"
Katie Noonan performs at Tanks Arts Centre on Saturday 5th Of June tickets can be purchased by clicking here.

For more info on Katie Noonan and The Captains visit their official website
Katie Noonan's official website