Henry Rollins is a legend in a sea of pretenders and is headed to Cairns to do a spoken word performance at Tanks Arts Centre on Wednesday the 21st Of April.
After spending a week and a bit reading three of his books, Black Coffee Blues, Do I Come Here Often and Smile You're Travelling I got a sense that Rollins is a complicated man but not because he chooses to be .... but rather because that is who he is.
He seems like a man who isn't interested in what others think but is on his own life journey and tries to make the most out of every day.
I caught up with Rollins via email at 2am in the morning just after he had done a show in Washington DC and this is what he had to say.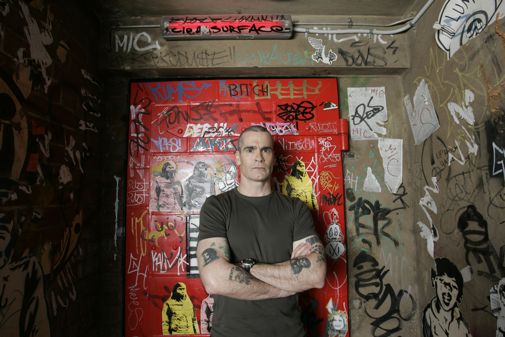 You are often described as "best known as the lead singer of punk metal band Black Flag" does that seem a bit weary like it was another lifetime ago?

It is a long time ago for me but so is last year. It doesn't make me weary, I am busy doing other things.


Should people be describing you now as successful author, social commentator and world traveller?

I don't know! Who cares?


Have you sold more albums or books?

Albums.


You are some forty shows into your tour now and are currently in Washington DC...how's it been going?

So far, so good. I am never satisfied with the show and as soon as it's over, I want to do it over again. All in all, things are good. Lots of people are showing up, which is really cool. I think I am hitting it pretty consistently.


"One of the most satisfying things in my life is my ability to actualise ideas" (Smile P49) what advice would you to have for others both young and old to be able to actualise their ideas?

Set some goals and meet them and go from there. A lot of people don't always set goals and are not in that way oriented. They go through life, with the flow and then it's over. I would rather ignore the flow altogether and do my own thing.


You mention you shared the bill with William s Burroughs at a poetry festival in 1985; did you get to speak with him? What was he like?
I didn't speak to him. He was very high during his set and was unable to complete it. Not the best showing.


You speak of you home in LA as a reference point and you seem to be almost constantly travelling but in between the gigs and the travelling how much do you really get to see and experience?

A lot. Not as much as on tour as when I am traveling on my own but I see plenty.


"Days of suffocating depression...for as long as I can remember" (Smile P105) what do you think is the root of this depression?

It has been with me all my life, I don't know the root of it.

How do you overcome it?

One of the things that beats it back is workouts and lots of activity.

What advice would you give others who feel the same way at times?

The gym, that's been the best for me.


The music industry has changed dramatically over the past few years do you think this if for the better freeing the music and musicians from the Music Moguls or jeopardised the future of the music industry?

I definitely think it's for the better. I am glad when the thing fell in on itself. They were brought to the ground by their greed. I think that bands should do their own thing or band together and make small labels. I would never go back to that cesspool. I think if you stay away from the majors, you can actually do something.


"I think it will be a failure to be in a band when I am 40" (P 24 Do I come Here Often)...does this mean no Black Flag reunion or no Rollins Band gigs in the future?

I wouldn't want to go out with either of those bands. The past isn't interesting to me.


Your thoughts on the contemporary music scene? Bands you like and loathe? What's on high rotation on the iPod at the moment?

I think the scene is happening.
I like many small labels and bands that are happening now. The bands on American Tapes are great, XBXRX, Hawnay Troof, Dax Riggs, the Amazements, Snail, Let The Night Roar.
There's lots of good bands happening now. As far as what I listen to, I am all over the board with the day to day. I have been listening to a lot of old French Avant stuff lately.


"Most people are mediocre and don't listen to the music they buy, don't taste the things they eat and don't care what poisonous crap they put into their bodies" How does one avoid the descent into mediocrity?

Look away from the mainstream and don't always go down the most traveled paths for a start. Thinking for yourself always helps.


You tell the story of a teacher that gave you the love of weights, how would you describe the impact this man had on your life? Have you ever contacted him since leaving school?

He helped me get some self esteem. I have not seen or heard from him since about 1976.


You are coming to Australia as part of the Sydney and Melbourne comedy festivals, would you class your spoken word performances as Comedy?

No. I am not funny enough.


Describe what your show would be like for someone who knows nothing about you?

Story telling and editorializing.


You are an American who spends a lot of time travelling within and outside of your country what do you perceive as the challenges facing your country?

Healthcare challenges, foreign policy, funding for infrastructure repair.


Do you think it is time for America to withdraw into itself and let the world sort it's own problems out?

To a certain extent. America has a military presence in over 150 countries, that has to end.


What are you looking forward to the most about visiting Australia?

The shows, the audiences, the chance to get it right.


You have a number of tattoos do you regret any of these?

Not really.


How do you feel about tattoos becoming so much part of mainstream culture these days?
I don't have any feelings about it.


You have a prominent tattoo of Einstürzende Neubauten, what is your connection to this band?

Fan and friend.


I noticed you were credited for taking the photographs for the cover of smile, is photography something you are interested in? Do you think we will see a book of photographs by Henry Rollins?

I carry a lot of photo gear with me. I am working on a photo book.


Whats your attitude towards Shane MacGowan. Given you choose not to indulge in booze, drugs and cigarettes, I wonder what you thinks of Shane Macgowan.

I think he's talented but he seems to be killing himself.


You had Shane on your show to do an interview and sing.how did that go?

Good. He showed up on time and did his thing.


Do you think Shane has wasted his life, or if your cool with Shane's lifestyle choices. You are almost polar opposites in a lot of ways.

It isn't for me to judge anyone or tell them how to live. He doesn't look all that healthy to me.


If you were going to suggest someone buy one of your Cds and books to get a feel for your work which two would you suggest.

Truthfully, I can't think of anything I have done that I would suggest to anyone.
To buy tickets to see Henry Rollins live at the Tanks CLICK HERE>

You can keep up with Rollins travels by logging on to his website and reading his dispatches CLICK HERE>
Henry Rollins has a new Cd of his spoken Word material out called Spoken Word Guy, this is avaliable to purchase along with books and all sorts of other great stuff online at www.henryrollins.com