Book Reviews
Lyrics
Shane Howard
One Day Hill Publishing 2010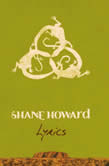 To see the life of a songwriter printed and bound in a book transforming the fleeting words of a song into the enduring form of written poetry is a beautiful thing.

"Lyrics" is such a collection of songs by Shane Howard the creator of the anthemic song "Solid Rock" during his time as part of the 80's Australian supergroup Goanna.
The book explores the songs from the entirety of Howards career, divided into chapters that represent the 11 albums he has to date produced.

Taking the music from the words allows the reader to ponder the meaning and subtle intricacies of the lyrics breathing new life into the works some written almost 30 years ago.

This volume published by One Day Hill publishing in 2010 is beautifully produced and decorated throughout in with colour illustrations taken from Howard's journals over many years as well as illustrations by his wife Teresa O'Brien

Lyrics is available now for RRP $35.00

You can visit Shane Howard's website at www.shanehoward.com.au