It's not often that you get a chance to have a chat with one of the country's greatest living songwriters though he is often overlooked for this title. Don Walker's songs formed the backbone of Cold Chisel's output and he will be playing a very special set at Tanks Arts Centre this month.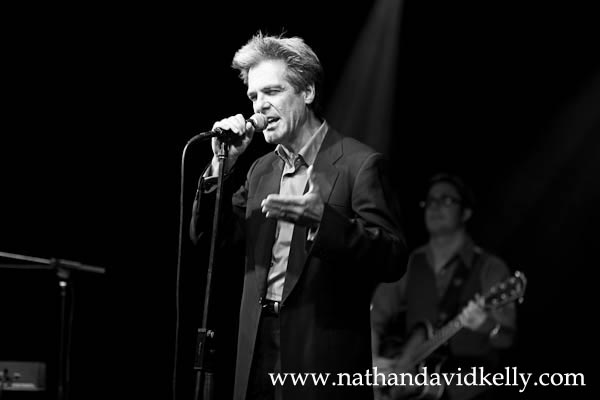 Hi Don where am I talking to you today?

I am in Adelaide and I haven't even left the hotel yet as the maximum temperature is looking to be only 15c

I saw you play up here with Cold Chisel last year and obviously your show at the Tanks will be very different…what is the show going to be like?

Well it features myself and my five piece band the "Suave Fucks" who have been together for about 10 years now, about 5 years with the current line up and it's a set of songs that is quite different to Cold Chisel. We are pretty serious about it but there's a lot of fun in it too. The songs and the way the band sounds represents its own world and I don't think it sounds like any other band…I am trying to put into words what it sounds lie but the players in the Suave Fucks they normally play in in blues bands and country swing and jazz bands.

You have released two solo albums but you have written dozens of songs for other performers including the band Tex, Don and Charlie so what songs will you draw from for this solo show?

Mainly from the two solo albums, a couple of Tex, Don and Charlie songs and there is also a lot of new songs as I haven't had a solo album out since 2006 and I have done a lot of writing since then.

Last time we spoke was about two years ago, you were thinking about releasing an album in December of that year obviously you have the material for an album so is there a Don Walker album on the way or where are you at with that?

Most definitely I have enough material for an album and I probably have more than enough, what would have stopped me that year was my listening to the album and that we had recorded at that stage and deciding that no it needs some more or else the other thing might have stopped that being already to go I have written a couple of new songs and I have thought no I can't go ahead with it until I get these songs on it because I love them.

You have a live show available for download can you tell me a little bit about how that came about and why you chose to release it?

It was recorded at The Queenscliff festival at the end of 2006 and it was recorded on an ABC mobile recording booth and when I heard it the band was in fine form and that was about 6 months after you first saw us in Cairns and we had done a lot of playing in that time and we loved the way it sounded so I got it mixed up and I was planning on releasing it in conjunction with the next studio album but I thought let's just put it up online so that people can listen to it.(download HERE )

Do you find it amazing that these days that the release of music can be as simple as that?

Yes and I have always wanted to do that and I looked at it 5 years ago and it was difficult but in the years since technology got to the stage where it could be done.

Compared to the good old days with Cold Chisel the making of an album and its released would have been a major task compared to today?

There are a lot of practical nuts and bolts that are easier now you don't have to muck around with tape and every time you copy a tape you go a generation down but the core of what you are doing is still the same and that is quite simple and it is just as mysterious as it has ever been, its one person or a group of people with or without instruments dreaming up something in their minds that didn't exist yesterday, that fascinating and mysterious to me and it's as simple as it was 40 years ago technology makes no difference to that.

Many of your songs are snippets from people's lives can you talk a little about your song writing process?

I don't keep journals or anything like that I write in my head, I don't write at an instrument the only thing I do have is scraps of paper that I write on but I don't write down observations or anything like that it is usually on any scrap of paper there is a half-finished song and if I get to spend a moment I can sit looking at the horizon and see if I can add to it looks a lot like doing nothing.

Do you find it is getting harder to write songs as you get older or is it getting easier for you?

Well as a generalization you have a lot more time for creative stuff when you are young before the family thing comes along. I write in my head so that going on while I am doing other things.

Once you come up with the lyrics where does the music come from?

I usually don't sit down at the piano I take it straight to the band but I certainly don't go to the band or the instrument until all the music is finished in my head.

Your book "Shots" was released in 2009 and was a fairly successful book release and is now in another edition, is there another book in you?

I hope so I haven't started doing anything, I really liked doing it and I would like to try a piece of fiction but I am waiting for an idea to come along.

What's the best thing about being a musician?

By and large not having to get up in the morning but you know family replaces that.

What's the worst thing about being a musician?

No Money!

What advice would you give a young musician thinking about entering the music industry these days?

Don't enter the music industry ever; concentrate on your music, the music industry will follow. No Matter how successful you get you have to continue to ignore them, don't let them catch you.

Do you find it ironic that 10,000 people will come to a cold chisel show to hear songs that you mostly wrote but only a fraction of that number will come to ones of your solo shows?

No that is perfectly predictable its how that world works. Radio stations play Cold Chisel songs and they don't generally know that I exist so people out there who listen to radio it's going to be the same for them.
Maybe I stayed away from the industry a little too successfully for my own good.
Don Walker and The Suave Fucks play Tanks Arts Centre on the 21st of July tickets avaliable through Ticketlink HERE